Simple and Elegant Minimalist Fall Decor Ideas
Keep your seasonal decorating simple and elegant with these easy minimalist fall decor ideas!
Simple is often the best way to live! So when it comes to seasonal decorating, no need to complicate it with overthinking or overspending. Instead, let's make a few simple changes or updates that will help us celebrate the new season and enjoy all the cozy feel and charm fall has to offer!
Often when it comes to home decorating, we feel the pressure to change and redecorate every corner of our home. But I've found from previous years while attempting to simplify my life, a few simple changes is all you really need to enjoy and still feel the full effects of those decor updates.
Fall is a season of coziness and warmth. So all we need to add that feeling to our homes is a few minimalist fall decor ideas. So today, I'm sharing my best with you. These are fall seasonal decor ideas I've done with our house to transform it into an elegant fall home we love.
Minimalist Fall Decor Ideas
The beauty of the minimalist life style is that you buy less, use what you really love and your home stays clutter free and easy to maintain.
Shop Your Home and Reuse
When it comes to seasonal decorating, the first thing I do is shop my home. Why? Well besides obviously spending less, I also get to reuse decorations that really being me joy. I know that sounds very Marie Kondo, but it's true.
Take for example these faux white pumpkins I bought years ago. I snagged 3-4 of them on sale and I continue to use them again year after year.
Originally they were bought for this simple fall pumpkin topiary (which only needs four simple items to create). But because they look so realistic, I knew I could use them for multiple decorations throughout our home.
A few years later, they were placed on my dining room table to compliment my gorgeous pumpkin fall centerpiece. To create this elegant fall look, all I needed was some faux pumpkins, a few flowers and some eucalyptus. So simple and such an easy dining table fall decor look!
So definitely take a look at all your previous fall decor. And if you don't love it, donate it and remove even more clutter you don't need in your home. 🙂
Swap An Outdoor Rug (or Two)
The front door is a great way to add some fall decor a tad earlier than inside your home. So if you're not quite ready to add seasonal touches, start with the front porch first.
One of my guilty pleasures is seasonal doormats. They are often under $20 bucks and generally wear out rather frequently so replacing them is easy enough.
Find more of my favorite Fall Layered Doormat ideas here!
If you have a place with no rug, the fall is a great time to add one. Our kitchen is a perfect example of this scenario. Sometimes in the summer months, the kitchen will be without a rug.
But as temps drop, adding a neutral rug to the kitchen is an easy way to add warmth to this room for the fall.
So if you have a place where you can add an extra rug for softness under your toes – do it!
Update Wall Art
A quick change of your walls art work is one of my favorite minimalist fall decor ideas. It's so easy and there are so many great options of prints to be found for really cheap or even free.
Just last week, I updated my living room gallery wall with these new black and white fall skeleton leaves prints. Such a simple way to give our home that fall feeling without any additional clutter.
Toss In A Cozy Throw
As the evenings get cooler, the throw blankets start appearing! Throws are one of my favorite ways to add coziness and texture to any rooms home decor. So in the fall I start placing throws on all the couches, beds and even our outdoor lounge areas.
Throws can be a great way to add a little touch of color to your fall decor as well. One of my favorites is this soft green shepra throw.
Another simple project that can add instant fall coziness to your home – my cute pumpkin pillows that I made last year! You can learn how make these no-sew cozy pumpkin pillows for your home with my super easy tutorial found here.
Change Throw Pillows
Speaking of pillows, throw pillows are my weakness. Even though I want to live a very minimalist life style, I often can find several new throw pillows I adore. But I try to not go crazy.
Remember, a little change goes a long way. So instead of replacing all the pillows, a simple idea is to swap out two or three. Just a couple new fall velvet pillows can give a room a completely different feel.
If you are a pillow lover like me I don't have a couple tips to keep it minimalist as best you can.
One, shop for a pillow cover instead of a pillow. This way you can use the same pillow inserts and keep those to a minimum. And two, store the pillow covers flat so they need less storage area.
And two, store the pillow covers flat so they need less storage area.
Learn how to Mix and Match Your Throw Pillows like the pros do – here!
Incorporate The Outdoors
One of my favorite things about living in Colorado is the beautiful Aspen trees. I love them in the summer and especially in the fall! You just can't beat their gorgeous golden colors for fall decorations. So if you live in an area with lovely outdoor fall foliage, get our there and snip a few branches to bring indoors and place in a glass vase.
Sometimes our fall season can be short and we get an early snowfall. When that happens all the fall colors are gone in one day. So just to make sure our home never misses out on fall, I purchased these faux leaves a few years ago.
Love that I can easily and simply give our home that fall vibe with a simple floral arrangement.
Add Warm Outdoor Lighting
The fall season always has a spectacular show outdoors! So I love to get out there and enjoy it to the fullest. The perfect time is right before dusk. It's the best temperature and outdoor space to enjoy my timed outdoor candles.
These candles have a been a favorite of mine for years. And I've slowly gathered up a nice collection so I can place them throughout the backyard. They add the perfect amount of ambience to the beautiful fall outdoors!
Even though summer can be a special time, there's just something so captivating about fall that I can't help but 'fall' in love! And by taking a minimalist fall approach to fall, you will have a cozier, cleaner home and more time to actually enjoy this magical season to the fullest!
And my friends have some fabulous fall decor inspiration for you as well. Find those amazing ideas below: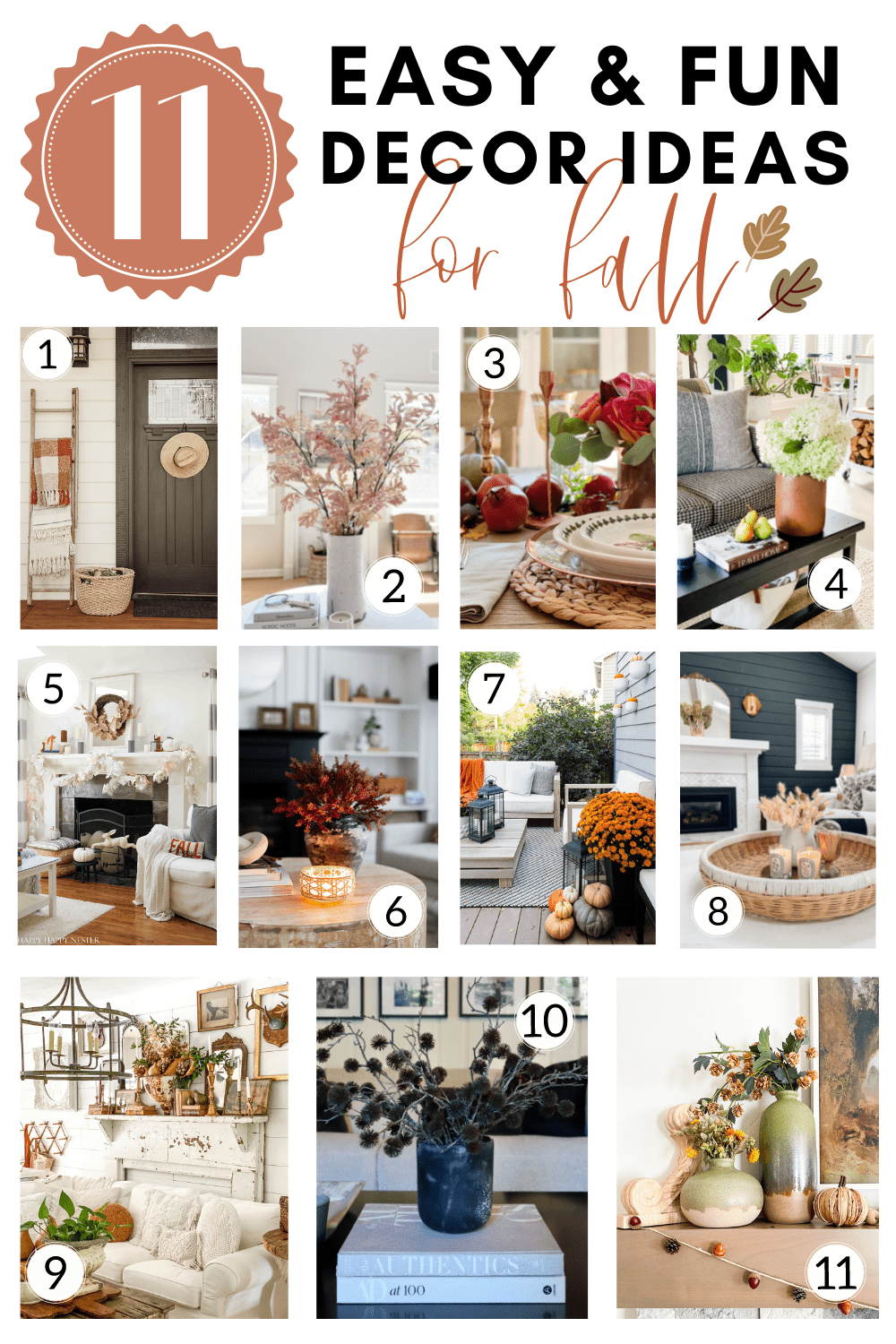 Minimal Fall Porch Decor by Twelve on Main
Simple Fall Decorating Ideas to Get Excited About by Pasha Is Home
Fall Table Ideas For Your Dining Room by My 100 Year Old Home
Four Simple Things to Refresh Your Home For Fall by Most Lovely Things
Paper Wreath DIY by Happy Happy Nester
Touches Of Fall by Craftberry Bush
Minimalist Fall Decor Ideas by Inspiration For Moms
Super Easy and Minimalist Fall Decor Ideas by Modern Glam
Create Simple Fall Mantel Decor with 3 Unique Accessories by Robyn's French Nest
Minimalist Fall Decor by My Sweet Savannah
Simple Fall Mantel Decor Ideas by The Happy Housie