How To Easily Make Cozy Pumpkin Pillows
Learn how to create these adorable cozy pumpkin pillows with absolutely no sewing. These pumpkin pillows are the perfect fall accessory!
So I was scrolling through a Pottery Barn catalog one night (like you do!) when I saw the cutest cozy pumpkin pillows. I instantly fell in love with their cuteness but didn't really want to get up and order them right then. So I waited 'til last weekend – when to my surprise – they were no longer available and sold out! Great.
So then I wondered if I could make some of my own. I started searching the internet for some super soft cozy fabric and once I found that – my mind started working out the rest of the details.
It's Got To Be No-Sew
Now here's the thing with most fabric type craft projects, often they require one to sew. And this girl does not. I don't even own a needle and thread. So, I needed a way to make this with absolutely no sewing.
So I headed off to the fabric craft store with a mission in mind. I bought some supplies, got home and started to create. And guess what? I figured it out! And it's so easy. All you need to do is cut, knot, and wrap – and then my friend, you will have yourself a pumpkin pillow!
How To Easily Make Cozy Pumpkin Pillows
So now that you've seen the cozy pumpkin pillows, let's talk about what you'll need to make them.
Supplies Needed:
How To Build The Pumpkin
Cut the faux fur Sherpa fabric to about three-four inches bigger than the pillow insert.
Then pull two diagonal opposite corners towards the center of the the pillow.
Then tie those two corners together into a knot. Tuck in ends. Then tie the remaining corners together over previous knot. Tuck in those tails as well.
Once you have completed those steps the pillow will look something like this…
Next, take the end of cotton string and loop it under the knot. Then tie a knot with the string securing it to the fabric knot.
Take the remaining part of the string. Pull it very tight while wrapping the string around the center of the pumpkin and back to tied fabric knot on bottom. Turn pumpkin and wrap perpendicular to first line. (Remember each wrap needs to be very tight.)
Then continue wrapping by diving each quarter section. Once the wrapping is done the pumpkin bottom should look something like this one here. The previous tied Sherpa fabric knots actually get pushed into the pumpkin as you wrap – which makes for a pretty flat pumpkin bottom. 🙂
Flip over the pumpkin and it should like very similar to this look below.
Finally, How To Build Pumpkin Stem
Now how I made the stem is a little strange. 😉 I wanted the stem to have a little bend in it and I couldn't think of anything in the craft store that would meet this requirement.
So I came how and scoured the house looking for anything that would work. I came upon these plush flowers in our gift wrapping items. The stems of those flowers have a tiny wire inside making them bendable. Plus they are the perfect width too. Perfect!
So that's what I decided to use. If you don't want to buy any plush flowers to destroy :), you could simply use a piece of tree branch from your yard, or maybe even a wine cork. Then just follow the instructions below to get the finished look for the pumpkin stem.
Cut the flower stem (or whatever you're using for a stem) into three-four inch pieces as seen below.
Then cut a little square of burlap and hot glue onto one end of the stem.
Once the burlap is glued on secure, take the jute twine and glue it on while wrapping it down the stem. I actually wrapped mine twice just to make sure the green fabric on the stem was completely covered. If you can get it one wrap – great!
To get the stem to secure to the pumpkin I used a wood skewer. Break it into about a four inch piece. Then cover one end with hot glue and inserted it up into the middle of the stem leaving about two inches sticking out.
Then put a bunch of hot glue on the other end and push the stem down into the center of the pumpkin. If the stem felt more loose than I liked, I gently pulled it up just enough to insert more hot glue around the edge. Then pushed back down until the glue cooled and sealed.
Once dried, the stems are pretty secure. But I wouldn't carry them around by the stem (just a suggestion). And then, the finished pumpkin should look like the one below.
Now all that's left to do is make a few more and then find a cute place to put them. I decided to put my pumpkin pillows in our basement because the warm fall colors go perfectly with the decor in this room.
Plus if I put them down here the dogs won't bother them as much and mistake them for a new chew toy! 🙂
If you found this tutorial helpful, be sure to PIN it so you can find it easily and others will too! 🙂
If you liked this DIY pumpkin project, be sure to check out my friends creative pumpkin ideas below: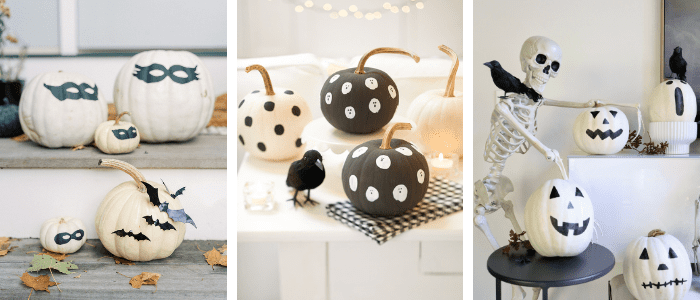 Painted Mask Pumpkins || Finding Lovely
Ghost Painted Pumpkins For Kids || Happy Happy Nester
No-Carve Pumpkin Ideas || My Sweet Savannah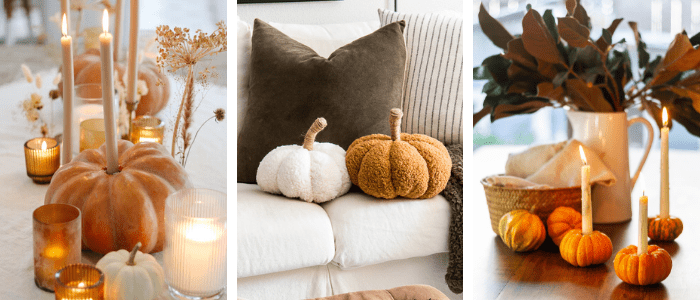 Heirloom Pumpkin Candle Holders || Modern Glam
Cozy Pumpkin Pillows || Inspiration For Moms
DIY Pumpkin Candle Holders || Zevy Joy

How to Make Easy DIY Floral Pumpkin Vase || The Design Twins
DIY Boho Chic Pumpkin Decor from Dollar Store Pumpkins || The DIY Mommy
Light Up Pumpkin Farmhouse Wreath || Tatertots & Jello
DIY Faux Clay Pumpkins || The Happy Housie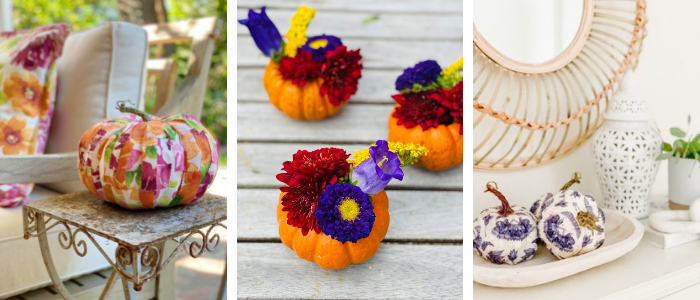 Easy Fall Cinderella Pumpkin Crafts // My 100 Year Old Home
How To Make Pumpkin Planters || Most Lovely Things
Blue and White DIY Pumpkins || Life Is Better At Home