How To Dry Limelight Hydrangeas For Lovely Arrangements
Want to enjoy hydrangeas in your home for months? Learn how to dry limelight hydrangeas for lovely arrangements or simple fall decor.
We planted our limelight hydrangeas which is my absolute favorite flower, about two years ago. And last year they produced some pretty blooms. But this year – the late fall show has been spectacular!
I really wanted to enjoy them to the fullest so I decided to bring those beautiful fall blooms indoors. And today I'm sharing my best tips on how to dry limelight hydrangeas so you too can have the most lovely fall flower arrangements for your home!
If you don't have any limelight hydrangeas planted in your yard, I highly suggest you add them next year. They are perfect for almost any planting zone and they grow so easily.
I think what I like best about my hydrangeas is how their blooms take on an entirely different look towards the end of the season as they dramatically change colors. The lime green paired with the light maroon on the tips of the flower petals is so amazing!
And as easy as they are to grow – drying hydrangeas is even easier! So the good news is, it's like a flower you can enjoy for over six months of the year!
How To Dry Limelight Hydrangeas
The key to getting the perfect dry limelight hydrangea is timing. I promise you – timing is everything! And Mother Nature will tell you when it's the best time to harvest.
If you cut limelight hydrangeas too soon, they will still be holding too much water and will shrivel up. Not the look we want for our arrangements.
So the trick to the drying process is to let those blooms dry right on the bushes. Yup! The branches may get a tad weighed down (especially when it rains). But as long as they're not touching the ground (or possibly a fence – like in my yard) they will be fine.
This is absolutely the best method I have found to get amazing dried flowers. Just look at those lovely vibrant color flower heads!
I've found the longer you wait, the better. Wait until the dry hydrangeas start to take on a vintage look and have a papery feel to them, then it's right time! Cut 'em and bring them inside. Just be cautious and don't wait too long because eventually the blooms will get brown spots.
Just to give you a time frame, I trimmed mine limelight hydrangeas in early fall (around the first week in October) here in Colorado and they were fantastic!
What You Need To Assemble An Arrangement
You won't need much to create a beautiful dry hydrangea flowers arrangement. Here's what I used:
Now you may have noticed, I places all of my beautiful dried hydrangeas in compote bowls. But you can use this drying method with any type of container. Vases, pitchers, pots – all will work!
Shop My Favorite Compote Bowls

I just feel like compote bowls are an easy way to get a gorgeous arrangement in a matter of minutes. Plus I have a several of them so I can place the dried hydrangea blossoms throughout my home easily!
Now that we have our tools, let's talk about how to arrange the dry hydrangea blooms.
How To Arrange Dry Limelight Hydrangeas
Before you start inserting your dry hydrangea blooms, you want to make sure to remove all the leaves off the cut flowers. Reason why is because the leaves are huge water drinkers, and will steal hydration from the beautiful blooms.
Then fill your container – I love using compote bowls – with the floral Styrofoam. I had some old pieces in my craft storage, so I just added a few pieces together to fill up the bowl.
If perhaps, the Styrofoam sticks out of your container a bit, no worries. The flowers will nicely cover it up! 🙂
Important Tip: If your hydrangea stems are fragile, I found using a wood skewer to gently poke a few starter holes in the Styrofoam will help keep the stems from breaking as you insert them.
And now it's time to add your individual stems. I like to make my arrangements big and fluffy and a little less controlled. But if you put a stem in and and don't like it, just take it out and reinsert it someplace else. I promise you, this is an arrangement you cannot mess up!
I hope you found this tutorial on how to dry limelight hydrangeas helpful! And if you have limelight hydrangeas in your yard right now and they're full of pretty blooms, grab yourself a container and some sharp shears and go cut those stems! Enjoy the beauty of fall while you can. 🙂
Love flowers? Me too! And I have a ton of great flower tutorials for you below:
And speaking of pretty fall flowers, be sure to check out my friends beautiful ideas below…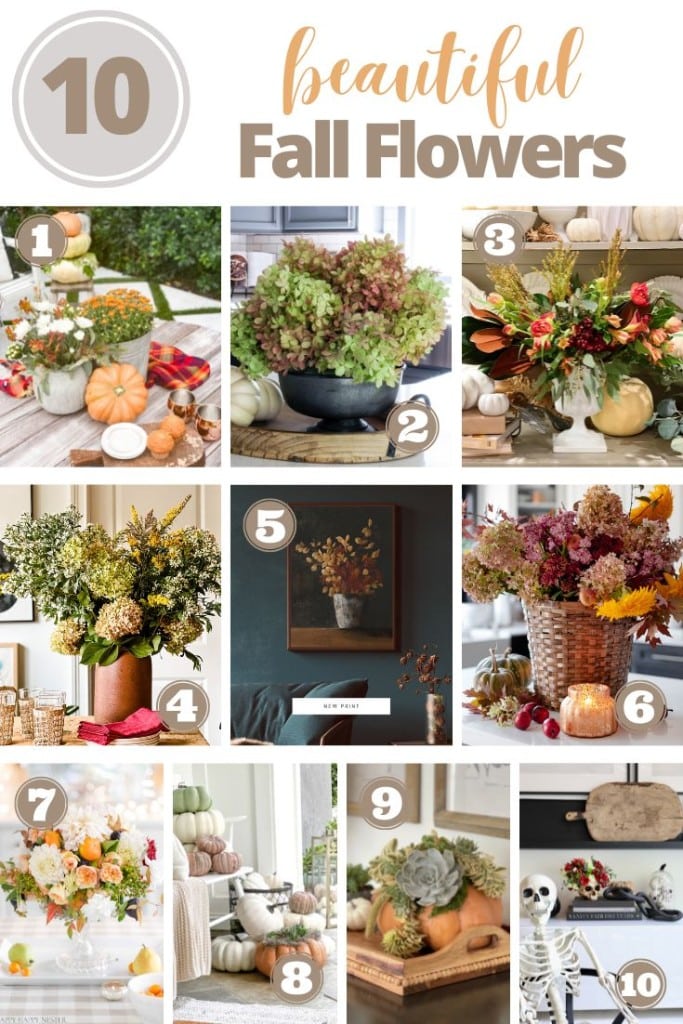 Blogger's Best Flower Arrangement