Create A Summer Schedule for You and The Kids
This week officially marks the beginning of summer break in our house.
Some of you may already be out like us or maybe this is your last week of school.
My question to you is… summer is coming, are you ready?
As much as we are incredible excited to be done with the school routine,
there comes a lack of scheduling and organization with the summer time.
No routine means kids get bored, moms go crazy and everybody is unhappy.
I did some searching around and found some great advice, helpful tips, printable schedules and more.
I plan on using these suggestions for scheduling little man's summer
and I thought maybe you could use them too!
You need a summer schedule just as much as the kids.
Let's face it…if you are used to the kids being gone at school for
6-7 hours a day and now they are home with you.
You're going to get behind in your cleaning routine, paying bills, grocery shopping, errands and more.
Unless you make a plan…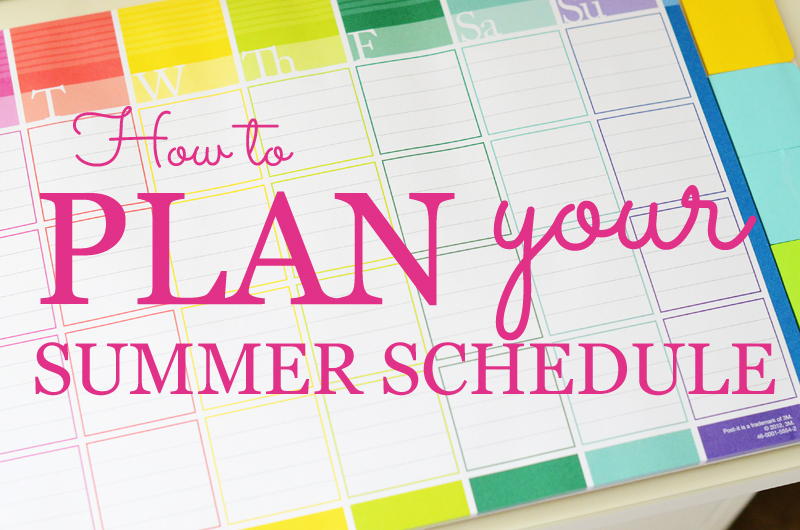 on how to plan your summer, stay on top of things and avoid being frazzled.
Next, help for the kids!
I really love this idea of using themes to make your kids weekly schedule.
When I was teaching, I based all my lesson plans on themes.
It was a super fun, creative way for me to teach and
the kids really got involved and looked forward to each of the themes.

Poppy Seed Projects has a theme for each day of the week.
I personally like "Take A Trip Tuesday"~ I always want to go somewhere! 🙂
Read more details about each week's theme and even print out the chart.
If you are not really into the theme idea,
I have another example of a working summer routine.
It's more of a traditional daily time schedule…
Jen at i heart organizing created this routine schedule
that is for Monday-Thursday with Friday being a Fun Day.
I like her idea of having a fun day activity at the end of the week.
It gives the kids something to look forward to and encourages good behavior.
She shows a day in the life of the schedule and you can also
print the above schedule for your own use.
You can choose to use any one of these idea or
combine some ideas together to personalize a routine for your home.
My advice is to make a schedule that is realistic and easy to stick to you for both you and the kids.

So, have you planned your summer schedule yet?
Do you know of any other tips or tricks to keep everyone at home sane through the summer?
Linking Up At:
Between Naps on the Porch