Spice Storage + Kitchen Drawer Organization Tips – Part 2
Spice is life! So that's why you need proper spice storage. Learn my best tips on how and where you should store you favorite spices and how to keep them organized as well.
Do I love to cook? Kinda. Do I love to bake? Oh yea! And when the temps start to get cooler as we head into fall, I especially want to bake all. the. things. So before fall officially arrived, I wanted to get my spice storage organized. Embarrassingly I have to admit, it's been years since I have done any spice storage kitchen drawer organization! It's so messy. Or should I say – it was. 🙂
So today, we are talking more about how to get all of those kitchen drawers organized. If you missed Part 1 – where I shared more organizing tips – be sure to check that out!
Spices can get so disorganized, so fast! So I'm sharing how I got mine organized easily with a doable method that's gonna keep them tidy. And I'm talking about the best tips to help you keep those spices fresh longer. So let's talk spices!
Before we jump into all my fun spice storage kitchen drawer organization tips, let's first chat about what you should and shouldn't do with those kitchen spices.
Kitchen Spices Do's and Don'ts
So here's what you don't want to do with your precious spices:
Avoid buying spices in bulk (unless you own a restaurant!)
Don't store them where you can see them – like no spinning countertop spice racks.
Try not to keep spices longer than six months. (I'm guilty of this!)
Now let's talk about the best things you can do for your spices:
Store spices in airtight containers away from heat and light.
It's best to use glass for spices because it won't absorb the essential oils.
Try to buy whole spices when you can and grind yourself for the best taste. (Maybe not all of them, but your favorites!)
So know let's talk about my spice storage and how it looked when I decided it needed some major reorganizing love. My metal racks didn't fit my drawer properly. The liner under them was constantly getting crinkled and dirty. And some of my spice jars were missing/broken.
The biggest problem however with my previous spice storage – storing spices I wasn't even using. Which meant the spices I did use regularly had to be stored over the stove in an upper cabinet!
So I started searching for some new organizational tools and now I'm loving my spice drawer! I almost wish the drawer could play some type of music when you open it. It's just an organizing work of art. 🙂
So let's break down all the new changes to my spice storage – starting with the new tray.
The Wooden Organizing Tray
My old metal rack was a carry-over from our previous house. When I originally bought it – it fit my drawers perfectly. This house – not so much. So I looked around and found this wooden spice drawer organizer. The great thing about it is — it's customizable!
Even though it was a tad to wide and long, I just trimmed the excess off with my jig saw. (A table saw would be ideal but I don't have one.) Then I popped into my kitchen drawer and it fit like a glove! Beautiful.
Now that I had the organizer in place, it was time to find some new spice jars!
The Glass Spice Jars
When I started looking for spice jars, I knew I wanted glass and I thought a wood lid would look so sharp with my new organizer. So that's what I went searching for and thought I found the perfect jars. So I ordered them and when they arrived, I discovered they were too tall. Boo.
So I found some shorter ones, that were still larger than my previous old jars. Ordered those and they were perfect. Now I ask you, how lovely are these glass jars with the modern bamboo lids? Love 'em!
These jars now needed some labels. And not just any labels would do!
Simple Modern Labels
The clean modern style of my new spice jars needed the same looking labels. But where could I find such labels? Etsy!
This set by JamieJune was perfect. You can get the labels customized if you prefer but I decided to buy her standard 60 with no numbers. I knew the way I was going to keep everything organized was by alphabetizing the spices. So numbers were not needed.
How To Keep Your Spice Storage Organized
Keeping them all in alphabetical order may seem a little to COD, but hear me out. It doesn't matter if I'm cooking or Chris, we can easily find what we need and know instantly where to put it back. Win/win in my book! 🙂
SHOP SPICE STORAGE SOURCES: wooden tray | spice jars with bamboo lids | labels |
If you found all my spice storage tips helpful, be sure to PIN it!
More Kitchen Organizing
If you are looking for even more ways to organize your kitchen, be sure to check these popular posts:
And if you're looking for even more fall organizing ideas, be sure to check out these tips from my friends below: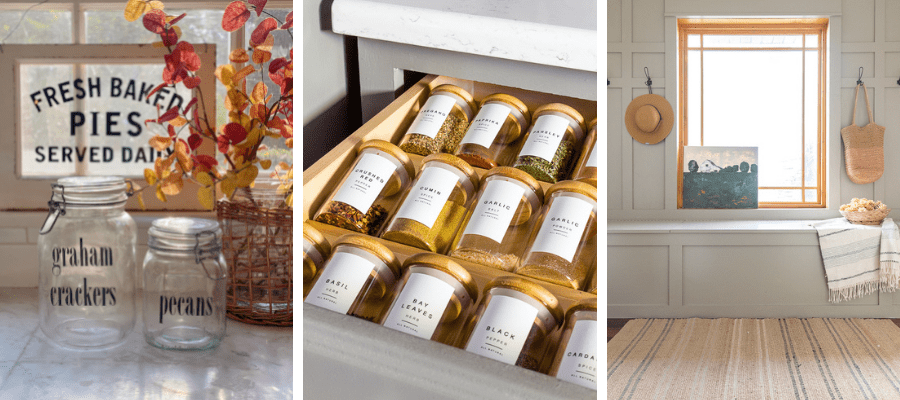 Organizational Tips and Some Fund Ideas to Enhance Your Pantry // My 100 Year Old Home
Spice Drawer Organization Tips // Inspiration For Moms
10 Organizing Tips to Help You Tackle Fall // Twelve On Main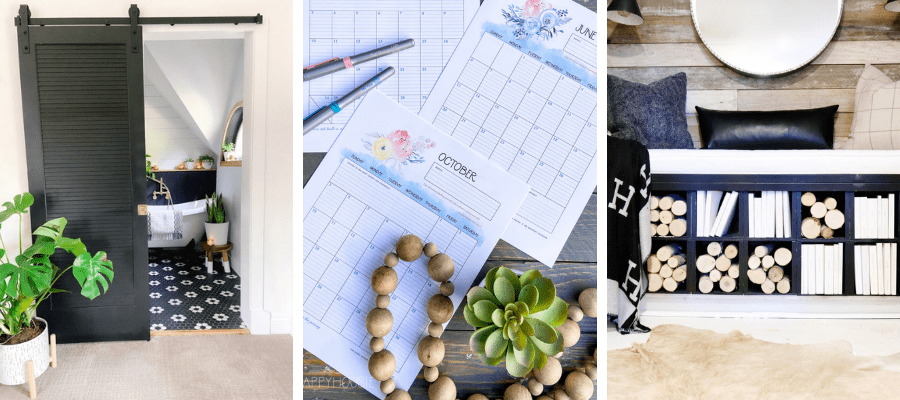 A Small Bathroom That's Big On Organization // Tatertots & Jello
Free Printable Family Planner Academic Year Calendar // The Happy Housie
Don't Judge A Book By It's Cover // My Sweet Savannah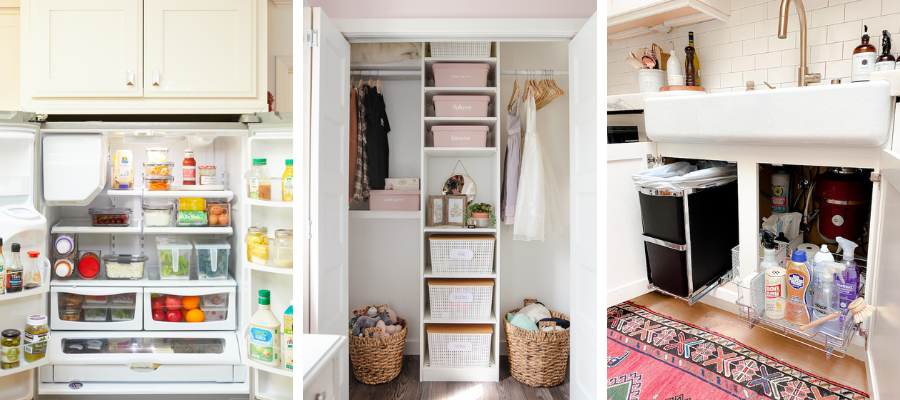 How to Organize a French Door Refrigerator // Happy Happy Nester
5 Quick Kids' Closet Organization Ideas to Start The School Year Off Strong! // The DIY Mommy
Under Kitchen Sink Organization Ideas // Modern Glam