Celebrate the deliciousness of the fall apple season with this oh so easy fall apple tart. Only six ingredients needed to wow your friends and family!
It seems when the fall season arrives, everything pumpkin gets all the attention. Well, I'm here to remind us all that tart apples can be just as fabulous! This easy fall apple tart will make you forget all about pumpkins – well – at least while you're devouring every bite of this easy dessert. 🙂
I made this simple apple tart last weekend for the family and was kinda in shock on how much everyone loved it. This easy recipe was so simple, so I knew they would enjoy it – but love it?
They loved it indeed. Now to be fair, we upped our dessert game with some vanilla ice cream on top of the warm tart (which I highly suggestion you try as well!) and it did make it even better. But Chris kept saying – 'Really, it's remarkable just on it's own!'
Now if you're thinking, how can a tart be simple? I don't have enough time to make homemade puff pastry dough? Let me share with you a little secret in this recipe.
Frozen store-bought puff pastry does all the work for you! Just thaw a puff pastry sheet for 30-40 minutes. Roll it out, give the sheet of puff pastry an egg wash, score your border (trim edges) and toss the fresh apple slices on.
My boys love granny smith apples so that's what we used for our apple filling. But you could also use rustic apples or just whatever favorite apples your family craves!
All that's left to do is watch it bake up to a flaky crust. Then this easy puff pastry apple tart just appears right before your eyes! It's like eating apple pie without all the work.
The glaze on top is even super simple, just a little spread of apricot preserves. You won't believe how well the apricot jam glaze compliments the sliced apples. So good!
I do hope you will give this recipe a try. And then PIN it to share with others or find it easily next time you want to make a simple dessert! 🙂 It's such a fabulous weekend dessert that you will want to make again and again.
Easy Fall Apple Tart
Easy Fall Apple Tart
Cook Time:
35 minutes
30 seconds
Total Time:
55 minutes
30 seconds
Celebrate the deliciousness of fall with this oh so easy fall apple tart. Only six ingredients needed to wow your friends and family!
Ingredients
1 sheet frozen puff pastry, thawed
3-4 Granny Smith apples, cut into thin slices
1/3 cup sugar
1 large egg yolk, beaten with 1 teaspoon water, for egg wash
2 tablespoons unsalted butter
Cinnamon sugar to sprinkle on top (optional)
2 tablespoons apricot jam
Instructions
Preheat oven to 375 degrees. Open pastry sheet and remove paper then fold sheet back up. On a lightly floured work surface, roll out pastry sheet while still folded to an 8-by-14-inch rectangle. Trim the edges with a pizza cutter to help the pastry dough puff as much as possible.
Transfer to a baking sheet and then place in freezer.
Peel, core and slice apples 1/4 inch think. Toss in a large bowl with sugar.
Brush pasty with egg wash, avoiding edges. Use a sharp knife to score a 3/4 border around pastry (do not cut all the way through). Place apples inside of the border area, and dot with butter.
Bake until pasty is golden and apples are tender, 30-35 minutes.
Sprinkle with cinnamon sugar (optional) and then brush on apricot jam. Cut into six pieces with knife. Serve tart warm or at room temperature. Topped with vanilla ice cream is always nice!
And if you're looing for even more fall baking recipes, be sure to check out the yummy recipes from my friends below:
13 Fabulous Fall Baking Recipes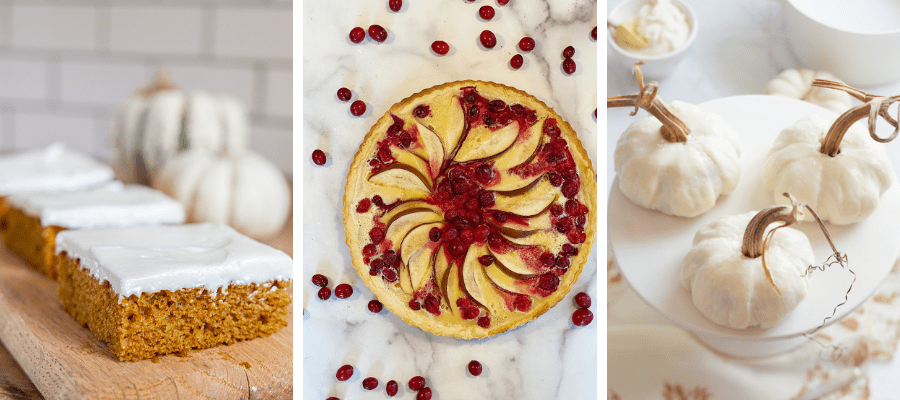 The Most Amazing Pumpkin Sheet Cake – Twelve on Main
Fall Pear and Cranberry Tart – My 100 Year Old Home
Mini Pumpkin Bundt Cakes – Happy Happy Nester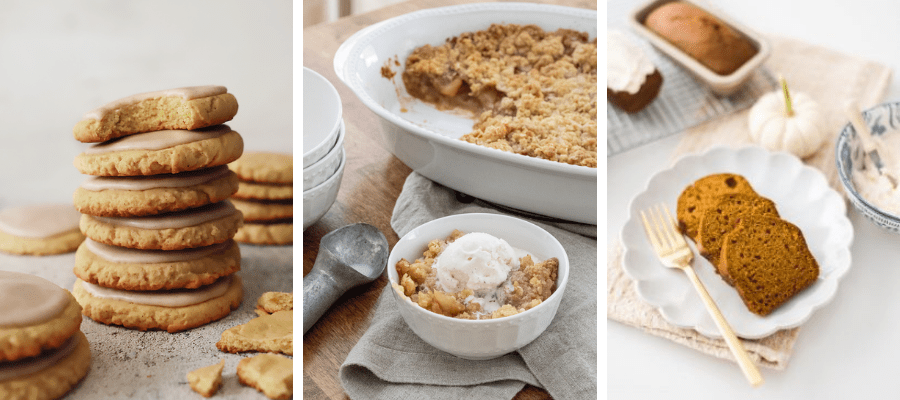 Soft Pumpkin Spice Cookies – Paint Me Pink
Old Fashioned Apple Crumble – Sincerely, Marie
Mini Pumpkin Spice Loaves with Cream Cheese Icing – Life Is Better At Home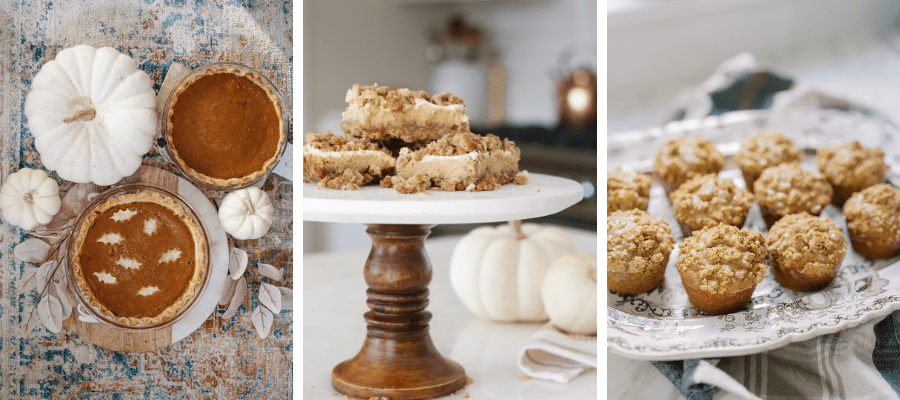 How To Make Pumpkin Pie From Scratch – The DIY Mommy
Pumpkin Cheesecake Crumble Bars – Maison De Cinq
Maple Crumble Muffins with Maple Butter Glaze – Finding Lovely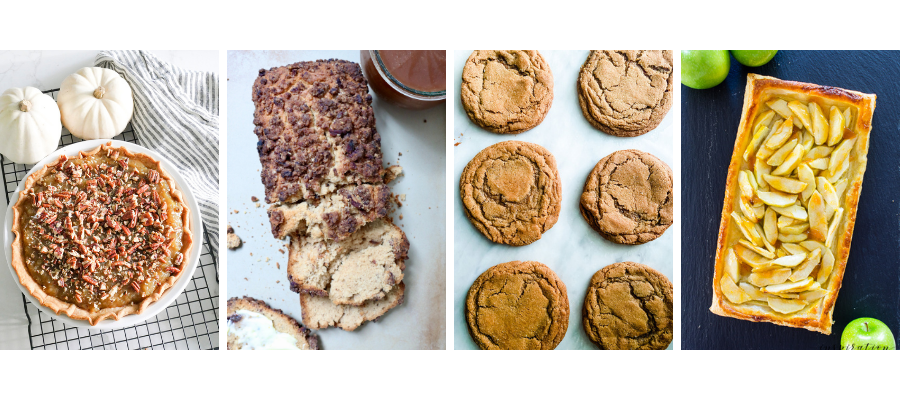 Decadent Coconut Pecan German Chocolate Pie – Grace In My Space
Apple Butter Pecan Loaf – My Sweet Savannah
Chewy Molasses Cookies – Most Lovely Things
Easy Fall Apple Tart – Inspiration For Moms