Easy DIY Hall Closet Makeover & Organization Tips
Complete this diy hall closet makeover in just a weekend and gain an organized area that saves you precious time and frustration!
Do you have a small space in your home that is being underutilized? I bet you do and I'm willing to guess it's your front door hall closet. Our small closet was over packed with too much stuff. Some of it we were actually using but most of the items were packed up high on the top shelf never to see the light of day. Sound familiar?
I've already remodeled several closets in our home, including our linen closet. But for some reason, this area just kept slipping through the cracks. Well, I made a plan and this weekend I completely remodeled this closet space. And you can too!
The Hall Closet Before and After
So first I must show you this storage space in all it's messy glory. Stuffed. Overloaded. And totally not making the most use of this closet.
But after just two days on this diy project, this space looks ten times better!
We actually have a place for shoes now!
This space looks so good and now I don't even want to shut the door. 🙂 But you better believe, I would have never left the door open before this diy hall closet makeover project!
So let me show you the process of how I changed this overpacked (and kinda useless) messy closet into an organized functional hub for our family and our guests. This post may contain affiliate links for your convenience.
Supplies Needed for DIY Hall Closet Makeover
The supply list for this do-it-yourself project is actually pretty short because I wanted to keep this project simple and budget-friendly.
Tools and Supplies You'll Need

So once I had all my supplies, the first thing I needed to do was remove all the things!
Tip: Sort As You Remove!
As I cleaned out our hall closet, I sorted items into three piles: keep, donate, trash. This way I would already have everything organized to it's final destination. Plus this step helped me know what was going back in the closet and how to plan the remodel so all the items would fit!
The next step would require a little work but it would be worth it – removing the existing shelving.
Remove Existing Closet Shelf
Now you may be thinking, "Why would you remove the existing shelves?" This is why – unused space. Our top shelf was too low. And this caused us to waste valuable storage space at the top of our closet. And with the closet rod placed low, we couldn't store much on the floor of the closet because it would be buried under longer winter coats.
So my plan was to move the top shelf and rod up about 12 inches. This would allow us to make use of every inch of storage space in this tight closet!
I got to work and removed the shelf and rod. Then I lightly sanded the walls smooth and finished by vacuuming the whole closet. Now it was time for the fun part – the wallpaper!
Give The Closet Walls Some Style
If you have never tried to use wallpaper before, a closet is a great place to start for several reasons. One, it's small so the cost of the wallpaper is very affordable. Two, you can play with fun patterns and styles because it's in a hidden area of your home. And three, if you mess up or struggle to get it just right – no one will know but you! 🙂
This speckled black and white wallpaper sticks with my love of neutrals but is still playful as well. And let me tell you, this pattern is very forgiving. You can match it up, but if you can't get it just right – it's not very obvious.
Also, I went with a peel and stick type of paper cause I wanted to get this done in just a couple of hours. (By the way, the lighter line going down the middle is not a seem – it's just light shinning in from the window next to the door.)
Now it's time to add some storage back into the closet.
Add Storage Shelves and Rod
This may seem like a complicated part of the diy hall closet makeover – but the install of the shelves was way faster than the wallpaper!
The 1×2 wood boards were used as the shelf bracing. I marked where I wanted to shelves to be by placing a piece of painters tape and then got out my laser lever. I nailed the back wall support boards in first – using a nail gun. And then added the side braces next. You can see in the picture below the braces (with the upper set topped with 1×12 board) for the bottom shelf.
Once I had all the braces and top shelves installed, I then trimmed out the front of each shelf with the 1×3 board. (shown below)
Lastly, I installed the rod. Make sure to use your stud finder to locate your studs. You want to rod to be as secure as possible so it can hold the weight of heavy winter gear!
Paint Shelves
Now this may be a step you will want to skip. I love the look of the natural wood, but all the shelves in our home are painted white. So I decided to prime and paint my new shelves to keep a cohesive look throughout our home. I also finally painted the inside door frame and trim as well. 🙂
So after the painting was finished, it was time to add all the finishing touches – the accessories!
DIY Hall Closet Organizing Tools and Tips
I new I would need several organizing tools to help me makeover this hall. Items that would help us (as a family hopefully!) keep everything in its place!
So I did some online searching and local store shopping to gather up some great storage baskets, a door organizer, a hook and of course new wood coat hangers.
In the past we used the slim, velvet hangers but Sebastian was often accidently breaking those when he went to hang his coat. So let's see if you can break these big guy! (That's a joke – please don't break my new hangers.) 🙂
The door organizer is a great find! For one it was on major sale – got love that. And two it was small but had a ton of great little compartments to make it very useful. It's the perfect place for little items like the boys sunglasses, an umbrella and keys.
The finishing touch was a little rechargeable motion detecting light to illuminate the upper shelf. Now we can find all our hats, gloves and more with a grab of a simple basket!
Shop Closet Accessories

Overall, I'm so happy a took a couple of days to knock this little project off the to-do-list. Raising the top shelf and adding a couple of shelves to the bottom of the closet made this easy diy hall closet makeover a win.
We now have a more usable drop zone that helps us find what we need – fast! And plenty of room to accommodate our guests coats as well. There was not one inch of space for a guests coat before! Now – look at us – it's like we have our own cloakroom. Can we take your coat? 🙂
If you are looking for even more organizing help, be sure to check out these reader favorites below:
And my friends have some great organizing posts as well! You will find those below: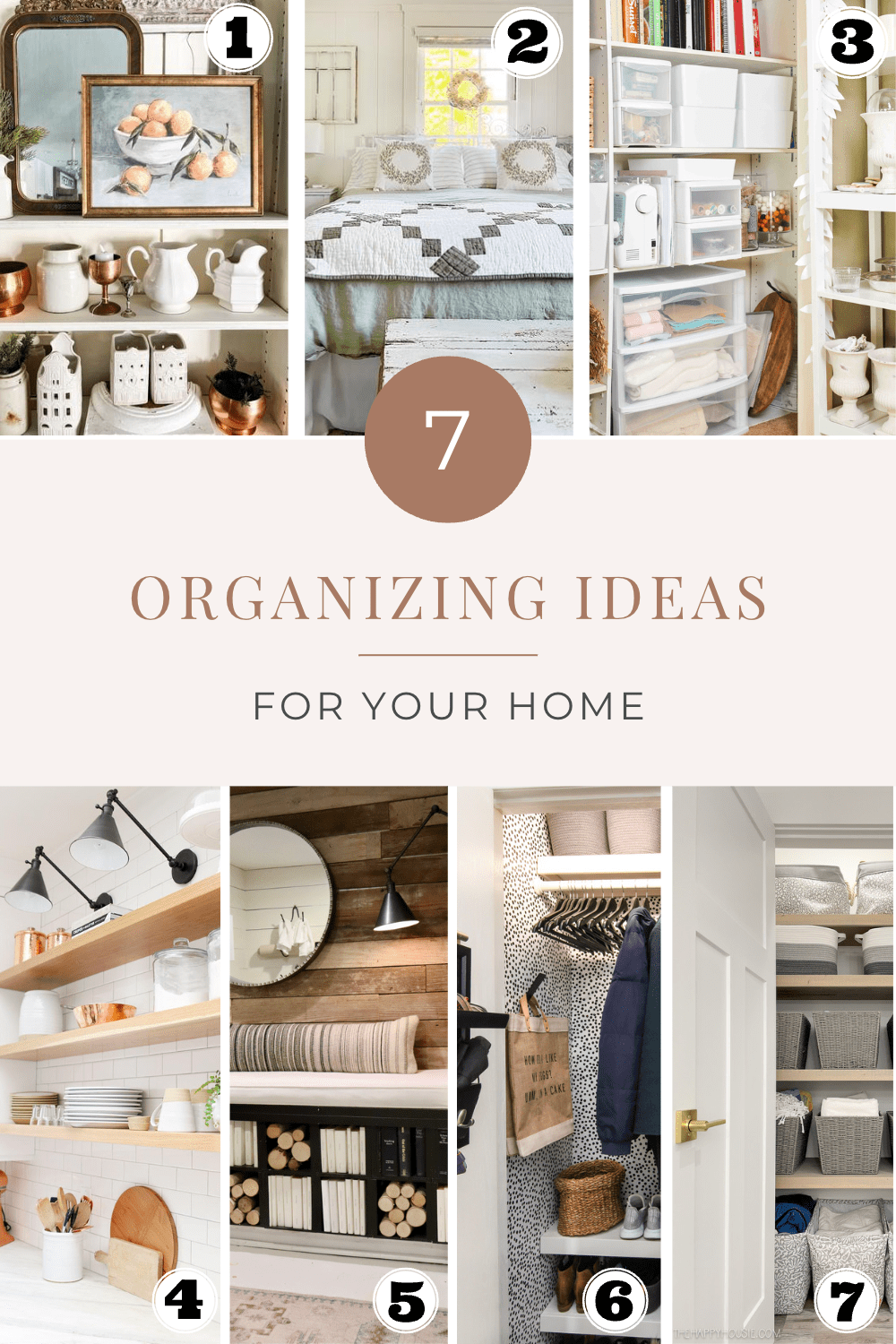 How to Organize a Dining Room in 3 Easy Steps // Robyn's French Nest
How to Organize a Small Bedroom for Guests // My 100 Year Old Home
DIY Storage Closet Ideas to Double Your Storage // Happy Happy Nester
How To Create A Clutter-Free Kitchen // Modern Glam
Basement Organization // My Sweet Savannah
Easy DIY Hall Closet Makeover // Inspiration For Moms
Organizing Your Whole Home // The Happy Housie