Put The Fun Back Into Lunch
This is a sponsored post written by me on behalf of Snack Pack for IZEA. All opinions are 100% mine.
My little man's school lunch has not changed much over the years. He always wants his juice, turkey sandwich and cookies. Kinda boring! When I was in school, lunch was my absolute favorite part of the day. When he went back to school in January, I started thinking about what I could do to jazz up my son's lunches. So when Snack Pack asked me if we would like to try out their pudding snacks, I was super excited. This could be the very item that will put the fun back into lunch!
They sent us this super cute owl lunch box, some portable silverware and some Snack Pack pudding cups. Now I ask you, how cute is that owl? I may have to burrow this for my own lunch sometime! 😉
Honestly, I'm pretty picky about what my son eats. The great thing about Snack Packs is there made with real non-fat milk and fortified with as much calcium as an 8-ounce glass of milk. They also contain NO preservatives or high fructose corn syrup.
My son was a little worried about opening the Snack Pack by himself at school. But thanks to the new redesigned lid, he pulled it off with no problem at all!
Once opened, he was quick to dive right in and devour!
No more boring here. My little man's school lunches have officially been taken to a new level. 😉
If you're looking to jazz up your kids lunches, you can find Snack Pack in the baking isle at your local grocery store. You can also head over to  Snack Pack as well for more information.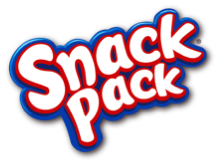 When you were in school, what was your favorite lunch snack?