A Better-For-You Dinner Out
Big Thank You to Smashburger for sponsoring today's post. All opinions are my own, cause we love our Smashburgers!
Unpacking a house is major work people. I have been unpacking boxes for weeks now and I still have a garage full! Yikes. My days are long and when dinner time rolls around this mama is spent. I have zero energy left to cook. I want my family to eat well but I don't want to make it. lol. So last night we ventured out to Smashburger to give me a break and give my family some good food!
Smashburger has updated their Kids Meal menu with a new better-for-you option: Grilled Chicken Strips with Musselman's Unsweetened Squeezable Apple Sauce. Two of my sons favorite things!
The chicken is 100% all white meat with no artificial flavors or fillers. The applesauce has no added sugar or sodium and is a great little side-kick to the grilled chicken strips. The meal also includes a choice of organic milk, organic juice or a fountain drink. My little man loves his juice so that is what he picked. He also loves those applesauce pouches so you know he grabbed that first! 😉
Another little man got pretty grabby too! He's like 7 months going on 7 years. He wanted my husband's burger so bad! lol "Give me your Smashburger! I don't need no stinkin' teeth to eat it!" 😉
Even though we had to hold onto our food, it was nice to get out as a family and just chill. And we didn't spend a ton doing it! Little man got his entree, side and drink all for $5.49.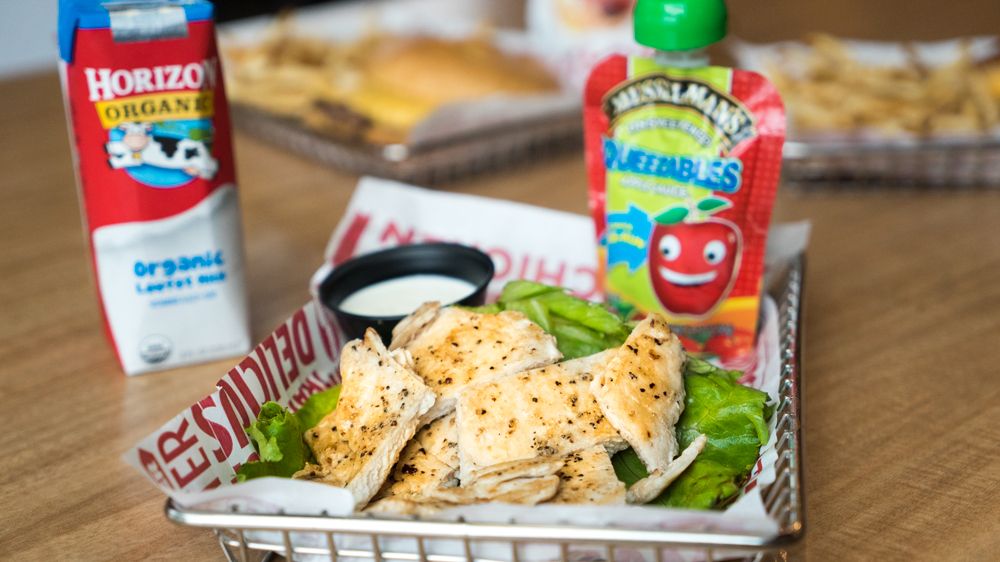 It was sooooo nice to have someone cook dinner for me. Now if I could just find someone to unpack for me, organize and clean for me at the same time!
This is a sponsored post written by me on behalf of Smashburger.